Mr Andrew Pieri is a renowned cancer and cosmetic breast surgeon in Newcastle Upon Tyne. He has over 16 years of experience in a range of complex surgical procedures, such as breast cancer treatments, breast reconstruction, breast augmentation, breast uplifts and breast reduction.
Mr Pieri, originally from Carlisle, qualified from Newcastle University medical school in 2007 with an MBBS and a Masters degree in research. He completed his basic and advanced surgical training in hospitals across the North East of England, including Durham, Darlington, Middlesbrough and Gateshead. As a senior trainee, he worked under the tutorage of the leading plastic surgeons and breast cancer surgeons at the Royal Victoria Infirmary, Newcastle upon Tyne. Following this period, he was appointed by the team as a consultant breast surgeon.
Mr Pieri has worked privately across the North East at the Spire Washington Hospital and Tyneside Surgical Services. Full-time dedication to a specific speciality has allowed Mr Pieri to develop the necessary expertise to perform a range of cancer excision procedures, including advanced plastic surgery techniques to remove more tissue in cases that require it while preserving the aesthetic appearance of the breast.
He also performs complex reconstructive plastic surgery procedures for those with a breast deformity from previous cancer surgery. As well as straightforward cosmetic surgery such as breast augmentation, breast reductions, breast uplifts and gynaecomastia excision operations.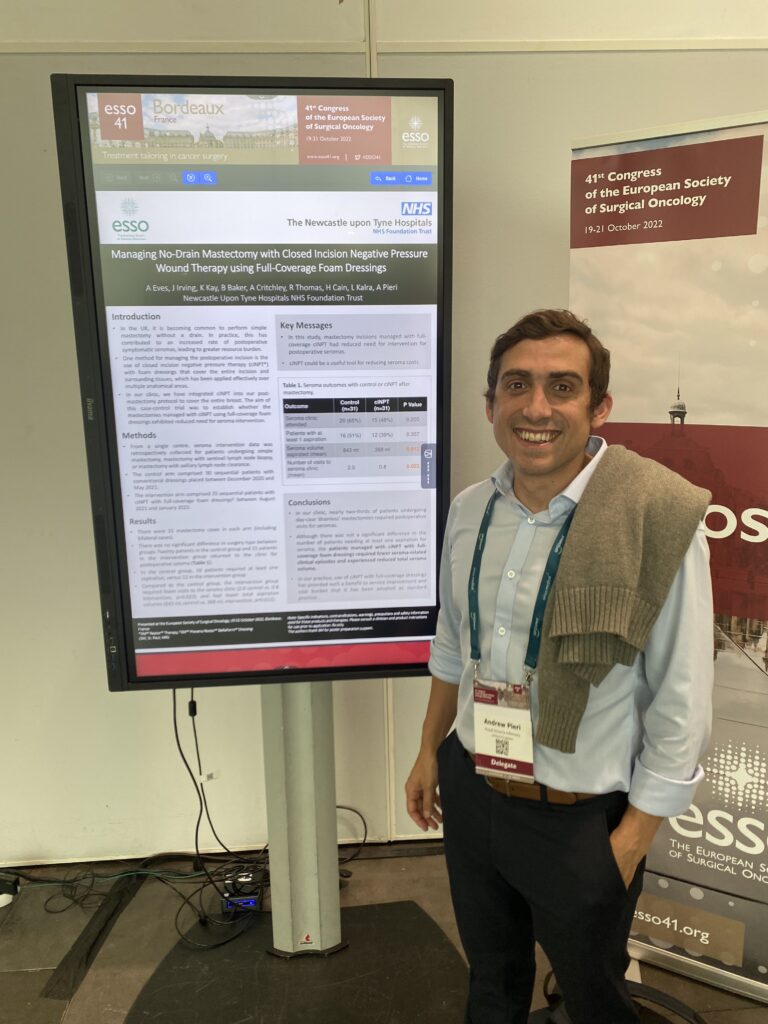 A true pioneer in developing new surgical techniques and technologies, Mr Pieri, has numerous publications, national presentations and a medical device patent to his name. In addition, he is renowned for his work as a breast surgeon and works closely with the medical industry providing an expert opinion on new technologies relating to breast surgery.
Mr Pieri is also highly involved as a medical educator and is the surgical lead for 4th-year medical student programmes at Newcastle Hospitals. In addition to being the director for cadaveric teaching at the prestigious national TIG Oncoplastic Breast Fellowship. A highly competitive course where some of the best plastic surgeons and breast surgeons finish their training in the UK and come to learn advanced plastic surgery techniques to improve the breast aesthetic during cancer removal operations.
Andrew is usually found on a bike in Northumberland or in the sea on a surfboard with his family when not working.