Breast augmentation can be a transformative experience for many women, but it needs planning and research. Any cosmetic surgery is a major commitment, and a boob job can make a massive difference to the way your body looks and feels.


The process involves inserting silicone breast implants into the chest to make your boobs appear larger and improve their shape. When done correctly, breast augmentation can give lasting results, but this invasive procedure does require a recovery period.


Each breast enhancement experience is unique, and Mr Pieri provides you with a personal consultation, so you can understand how it will affect your life. To help with your initial research, here's a timeline of the breast augmentation recovery process.
How To Prepare For Breast Implant Surgery
Before you start your breast enlargement journey, you will have a consultation with Mr Pieri. He will help you to understand the breast augmentation surgery process and how it can change your appearance. He will also help you select the right breast implants and choose the perfect breast implant placement to get you the results you desire.


Once you have a date set for your procedure, you need to make sure that you're ready to recover. That means making sure that you have at least 2 weeks booked off work. This time needs to be used for rest, so if you have any dependants or personal responsibilities outside of work, you need to arrange for help with these also.


Ensure you get a soft support bra in your new breast size and have it ready for when you get home, alongside nutritious meals and everything you need during your breast augmentation recovery time. You'll have to refrain from strenuous activity, including shopping, heavy lifting and standing for long periods, so make sure you have a situation in place where you can relax and recover in peace.


Immediately before your surgery, you'll need to fast for at least 6 hours. Mr Pieri will discuss any further steps you must take to give yourself the best chance of a successful operation.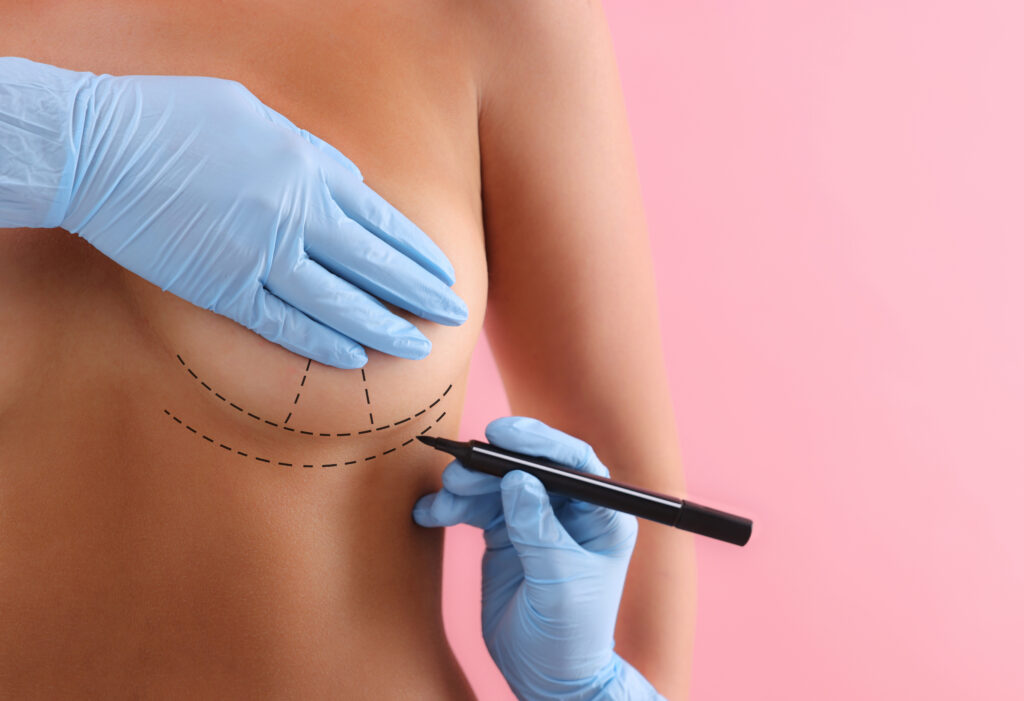 Sports Bras And Silicone Creams To Help With Healing
Being prepared means having all the equipment needed to ensure your breast augmentation recovery goes without a hitch. Getting this ready before the operation can save time afterwards and mean you have everything to hand when you need it.


Thankfully, there's not too much gear required except a well-fitted, non-wired sports bra. Mr Pieri recommends choosing a bra that fastens around the front, as it can be difficult for you to reach your arms around the back of your body during the recovery period. 


Once you've found a post-surgery bra you like, buy a few to ensure you always have a clean one ready. This bra needs to be worn night and day for at least the first 6 weeks post-surgery, so one won't be enough. After 2 weeks, you might be able to change into another bra for some activities, but your sports bra will help to ensure that your breasts are supported throughout the healing process.


When it comes to products to reduce swelling and help your body heal faster, the only clinically proven options are silicone-based creams. Companies like Nourisil MD and Kelo-Cote offer effective silicone scar-reduction products that can help to lessen the appearance of surgical incisions. These solutions should only be used with approval from your surgeon and only when the wounds have fully healed.
Every woman is different, and the length of your recovery period will depend on a variety of factors, including the breast implant size you chose and how well you follow your surgeon's instructions after the procedure.


It usually takes most patients between 6 to 8 weeks to recover from breast enlargement surgery, but your surgeon will be able to give you a more accurate timeline. In general, these are the stages of recovery you can expect following your breast augmentation surgery.
Immediately Following Breast Augmentation Surgery
After your procedure, you may feel woozy and tired. Your surgeon will provide pain medication and an aftercare plan for the immediate weeks post-operative. Drink plenty of water and try to get as much rest as you can. As you won't be able to return home alone, you should arrange for someone to drive you back and stay with you for the first few hours.


Your surgeon will provide you with dressings for the first few days following surgery, and you can then move on to a supportive sports bra to keep your breast feeling comfortable and avoid putting pressure on the incision site.
The initial days after surgery will be painful, and you'll feel groggy from the pain medication. You'll also experience some bruising and swelling on your breasts around the surgical site, so you need to rest and relax.

Avoid strenuous exercise and physical activity where possible. Light activity, such as walking and moving around, is encouraged to keep your body active and avoid deep vein thrombosis due to inactivity.


As you get towards the end of the first week after your surgery, you should be able to stop resting as much and start getting back to some normal activities. Still, you should always listen to your body and speak to your surgeon if you're unsure.
Two weeks into your breast augmentation recovery, you should be able to drive and return to work. However, the healing process is different for everyone, and if you still feel unwell, you need to speak to Mr Pieri to find out what the best approach is for you.


You will still need to wear a supportive bra at all times and should try to sleep on your back to reduce swelling and the chance of injury. Mr Pieri recommends that those looking to return to exercise consider using a stationary bike for cardio. Use your legs only to get your heart pumping without your chest area.

Around 2 weeks post-surgery, you should attend a follow-up appointment with your surgeon to make sure your upper body is healing correctly and that there are no complications.
By the third week after your boob job, you should start to feel better, but you're not ready to resume all normal activities just yet. Your body will still be tender and sore, so strenuous physical activity is out of the question.


Instead, you should try to integrate light physical exercise, such as jogging or taking long walks, into your routine. As the swelling goes down, you should be able to return to wearing a normal bra again during this time for short periods. Continue to follow Mr Pieri's advice and speak to him if you have any concerns.
By the fourth week following surgery, you should feel significantly better, and the swelling will probably be almost gone. While you may still be able to see signs of the surgery, you should now feel more comfortable and be able to get back to doing the things you enjoyed before the operation.


Take things slowly and reintroduce strenuous activities with caution. Now that the wound around the incision site has started to heal, you should be able to take baths and even swim for short periods, but you should remain cautious. You'll need to get used to how your body feels now and take the advice of your plastic surgeon to ensure that you make a full recovery.
Many women feel back to their normal selves around 6 weeks post after surgery, but you may need longer to fully heal. Your breast tissue may still be tender, but the bruising and swelling should be almost completely gone at this stage.


It's important that you continue to work with Mr Pieri as your body heals. This will ensure that you get the lasting results you want. Breast augmentation recovery will continue, but you should now be able to feel more like yourself and get things back to the way they were.
Tips For Optimum Breast Augmentation Recovery
Following surgery to enlarge your breasts, you need to make sure that you do everything you can to get yourself back to full health as quickly as possible.


If you don't take care of yourself during the weeks after your procedure, you may not get the results you want. In the worst-case scenario, you could even cause lasting physical harm, so you need to make sure you're prepared.


For the first few weeks following your breast augmentation procedure, you should:


Rest: As obvious as it sounds, you need to make sure you really do rest and don't do any heavy lifting or strenuous activity, at least for the first week or two following surgery.
Eat Well: Nutrition plays a key role in your general health, so you should try to eat a balanced diet following your breast augmentation and get yourself into good habits for the future. Foods that are high in protein and iron are particularly important to help you heal faster.
Stay Hydrated: Drinking plenty of water will help your body to stay strong and refreshed during the healing process. Water helps to flush toxins out of the body and reduce muscular pain, so it's important to drink a lot post-surgery.
Avoid Stimulants And Chemicals: Smoking, drinking alcohol or ingesting a lot of caffeine can hamper the recovery process by damaging your general health. As such, you should avoid these practices during at least the first few weeks post-op.
Follow Your Surgeon's Advice: Mr Pieri provides extensive support for all his patients, and you need to follow his guidance if you want to reduce your recovery time.
The Importance Of Choosing The Right Breast Surgeon
The success of your breast implant surgery and how well you recover will all depend on the surgeon you work with.


While there are many plastic surgeons throughout the UK, Mr Pieri specialises in breast surgery. Therefore, he is able to offer you his expertise and in-depth knowledge on the subject.


Alongside breast augmentation, he also provides a range of other surgical procedures, including breast lifts, breast reduction and breast reconstruction for cancer survivors.


With experience spanning decades and focused specifically on breast surgery, Mr Pieri is among the best breast enhancement surgeons in the North East. He also has one of the highest post-op satisfaction rates in the country.

Working with him will reduce the chances of complications and means that your breast augmentation recovery will be more likely to go without a hitch.
Looking For A Breast Enlargement In Newcastle? Look No Further
Mr Pieri supports women across Newcastle and the North East, providing them with guidance and quality procedures that deliver incredible results. If you're looking for a boob job in Newcastle, then get in touch by emailing [email protected] or calling 0191 2820197.


If you want a personal discussion with Mr Pieri, book a consultation today, and he can talk you through the breast augmentation recovery process.